V-Tec Extended Warranty Package (Pre-Owned)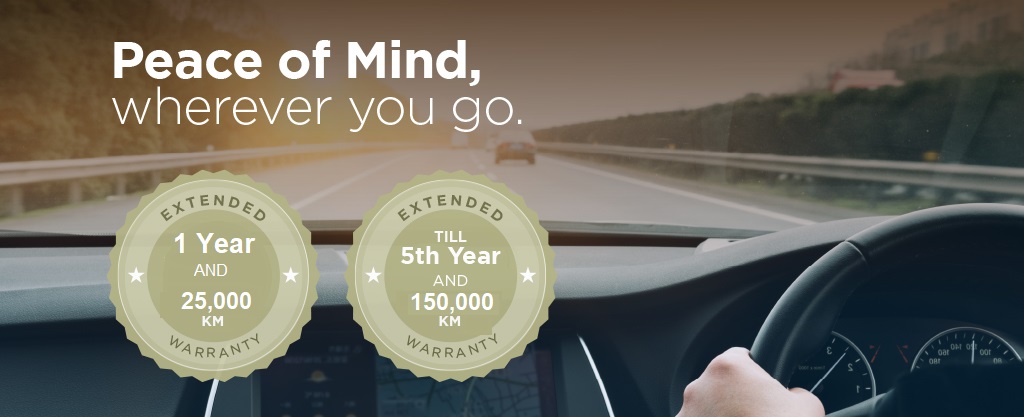 Do you need a Car Extended Warranty?
The first questions you need to ask yourself, are you someone who will worry about Vehicle Repair Expenses when your New Car Warranty expires?
If you say yes, you might want to consider a warranty for peace of mind.
Do you have the discipline to save up and has an emergency fund to pay in car your vehicle encounter a Major Repair?
If the answer is yes, you can probably skip the extended warranty.
Weight the Pros and Cons of Car Extended Warranty
PROS
Cheaper than a breakdown
Better resale value
Peace of mind
CONS
It's a gamble
Not all repairs are covered
You are limited only to the Authorised Workshop
PROS of an Extended Car Warranty

It is much cheaper compared to a breakdown
The cost of a Warranty will differ depending on the age, mileage, Make and Model of the vehicle.
One thing for certain: The Warranty Fee is usually much lower than what it will cost you if the car suffers a major mechanical breakdown or system failure.
As such, the Extended Warranty insures you against potentially costly expenses down the road.
Commands Better Resale value
You can show your potential buyer other than being covered by an Extended Car Warranty; Your Car is well-maintained with record to proof.
There will be more demand for a well-maintained Car and it can commands higher resale value.
Enjoy a Peace of mind
Whether or not you can afford expensive repairs down the road, buying an extended car warranty means you don't need to bother with it.
You can rest assured knowing that, if some major car issues occurs, it won't bite too much into your financial.
Some people just feel more comfortable knowing that somebody has got their back.
CONS of an Extended Car Warranty
It's a Gamble - You May Never Use the Extended Warranty
Obtaining an extended warranty for a vehicle is a little bit like buying health insurance:
You might not ever need it, but if something happens and you have coverage, you could save plenty of money that would have cost you far more than the Warranty you purchased.
Therefore you need to have the correct mindset before you commit on an Extended Warranty which is :-
"Only Major Components such as Engine and Gearbox are covered"
Not all repairs are covered
If you have ever seen an extended car warranty contract, you know that there are some Terms and Conditions.
This includes a list of exclusions, which the Extended Warranty does not cover.
Make sure you read carefully before signing to make sure you know what you are signing up for.
Warranty can be voided in some cases if you fail to follow service intervals correctly or install parts that are not factory approved.
You are limited only to the Authorised Workshop
According to whom you purchase the Warranty from, you have to use the workshop that serves you for the Extended Warranty.
You will not be able to visit any other workshops of your choice, nor can you support your friend who opens a Car Repair Workshop.
How do you decide if Extended Car Warranty is right for you?
If you're not sure if an extended car warranty is right for you, ask yourself the following questions.
1. How long do you plan to keep the car?
The older the car gets, more likely it will suffer from mechanical or system issues.
If you are the type who likes to buy new car and keep it only for only a couple years, it is less likely that you will need Extended Warranty coverage.
2. Have you done your research?
Some cars are more prone to breakdowns than others.
"If I am buying a Toyota Camry, I might not need an Extended warranty,"
"If I were buying a Range Rover, I probably would."
That is because the Camry has a great reputation for reliability, while the Range Rover's reliability tends to be spotty.
When buying a Pre-owned car, make sure you do your research on the car's previous repair history, Or else you may visit a reliable workshop for Pre-Purchase Vehicle Inspection before committing.
Choosing a Car Model which you predict will give you future problems? An Extended Warranty may be a good idea.
3. Will you regret your decision?
If you feel like the decision of not buying an Extended Car Warranty will give you sleepless nights, it may be worth the peace of mind to just get it.
The same goes for the other side of the coin. If you feel pressured to buy it and that it serve you no purposes, go with your gut feeling.
There's no right answer
Always look to see what vehicle components are covered and what's not covered.
Different Extended Warranty has a price scale for different coverage. As the price of the Extended Warranty increases, the amount of components those are covered increases.
V-TEC EXTENDED WARRANTY PACKAGE (PRE-OWNED)
We provide Warranty Packages however we are more selective therefore we don't mass sell our services.
This way we are able to focus our energy to optimise our Service Level thus maintaining the Highest Standard of Customer Service.
Our Company Prospective of a Warranty is to provide Assurance, not to create Frustration and Dissatisfaction due Service Failure.
Assurance means Customer service issues must be rectified to deliver an experience in line with our company's values.
Our Warranty Package allows you to enjoy the following Complimentary Services:-
Free 24-Hour Emergency Tow Roadside Tow Assistance
Free Servicing Packages
Free Diagnostic and Troubleshooting Service
Rental Car during Repair Downtime
Free Car Tyre Puncture Repair
0% Consignment Fee when you sell your car
Member Discount for Repair Services
Additionally, a good extended warranty will offer 24/7 roadside assistance, towing services, rental cars, diagnostic fee coverage etc