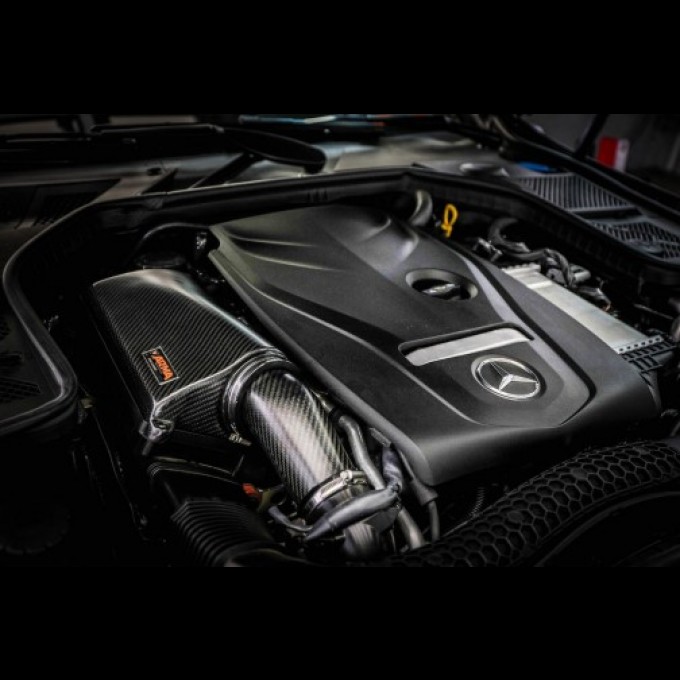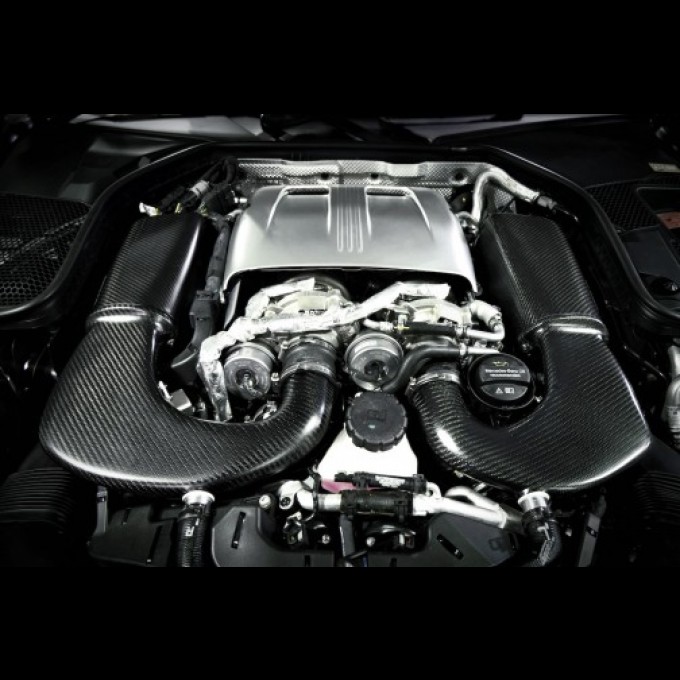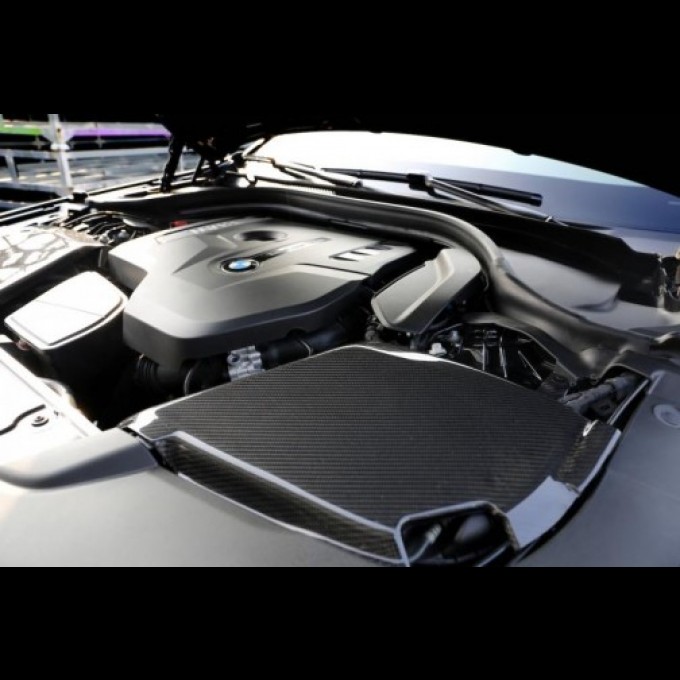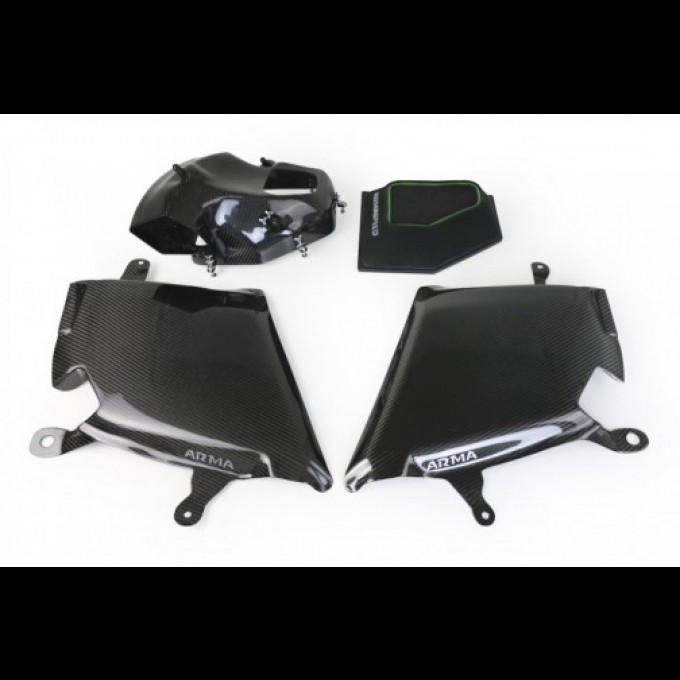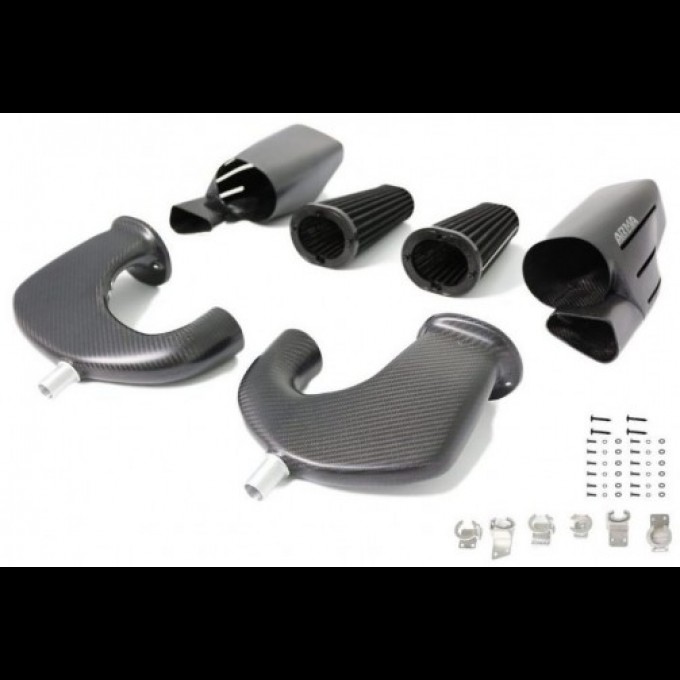 ARMASPEED Carbon Fiber Cold Air Intake
Product Description
Do Cold Air Intakes actually work?

Let's start with yes! Upgrading your intake is the first thing you should be doing to increase the performance of your car.

Cold Air Intakes are especially popular for the amount of horsepower it can add. So, let's elaborate on in what ways a cold air intake increases the Horsepower of your car.

1. Increase your speed and your HP

Cold Air Filter can increase the performance of your car with up to 20 horsepower.
It's not for nothing that a cold air filter is one of the most popular adjustments for auto tuning.
Due to the supply of cooler air to your engine, the response time and the performance of your gas valve will increase eminently.
Besides, on top of the increase of your horsepower, a cold air filter can increase the responsiveness of your engine.
Your vehicle will seem faster, since there is less restriction between the throttle and the accelerator.

2. More horsepower while being more fuel efficient

It might seem too good to be true.
However, upgrading to a cold air filter does not only increase your horsepower, your car will be more fuel-efficient at the same time.
By augmenting the volume and the density of the intake air mixture the efficiency of the combustion will be more efficient than before.

3. Amplifier for your BHP

On top of all that does a carbon air filter work like an amplifier for other add-ons.
So, installing a cold air filter is one thing, but combining this with upgrading your exhaust, a tuner or other extra add-ons, will amplify the increase in horsepower.
Swapping your factory air intake with an ARMA SPEED cold air intake will remove the restrictions of your performance.
Where your factory air intake normally strangles your exhaust.
Your new Cold Air intake won't do so anymore. In fact, it will get you the most out of all your adjustments.
Options
Audi A1 Carbon Fiber Cold Air Intake

$660.00

Honda Fit GK5 Carbon fiber Cold Air Intake

$660.00

Mercedes Benz W204 C250 Carbon Fiber Cold Air Intake

$680.00

Mercedes Benz W212 E250 Carbon Fiber Cold Air Intake

$680.00

Suzuki Jimny Carbon fiber Cold Air Intake

$680.00

Ford Focus ST 2.3L EcoBoost Carbon Fiber Cold Air Intake

$730.00

Audi A6 C7 2.0T Carbon Fiber Cold Air Intake

$820.00

Ford Mustang 2.3T Carbon Fiber Cold Air Intake

$930.00

Mercedes-Benz C118 CLA45 / W177 A45 Carbon Fiber Cold Air Intake

$1,000.00

Mercedes Benz W205 M274 C250/C300 Carbon Fiber Cold Air Intake

$1,000.00

Mercedes Benz W213 E250 Carbon Fiber Cold Air Intake

$1,000.00

Mercedes-Benz W205 C300 / W213 E300 Carbon fiber Cold Air Intake

$1,050.00

Mini Cooper R60 Carbon Fiber Cold Air Intake

$1,050.00

Honda CRV MK5 1.5T Carbon fiber Cold Air Intake

$1,080.00

Toyota Supra A90 MK5 Carbon Fiber Cold Air Intake

$1,150.00

Volkswagen Golf MK6 GTI Carbon Fiber Cold Air Intake

$1,150.00

Volkswagen Golf MK6 1.4Tsi Carbon Fiber Cold Air Intake

$1,150.00

Volkswagen Golf 7 1.2Tsi and 1.4Tsi Carbon Fiber Cold Air Intake

$1,180.00

Skoda Superb 1.4TSI Carbon Fiber Cold Air Intake

$1,180.00

Skoda Octavia 1.4TSI Carbon Fiber Cold Air Intake

$1,180.00

Mercedes-Benz C117 CLA250 / W176 A250 Carbon Fiber Cold Air Intake

$1,250.00

Lexus NX 200T Carbon Fiber Cold Air Intake

$1,280.00

Subaru BRZ Carbon Fiber Cold Air Intake

$1,280.00

Toyota FT86 Carbon Fiber Cold Air Intake

$1,280.00

Volkswagen Golf 6R and Scirocco R Carbon Fiber Cold Air Intake

$1,280.00

Volkswagen Tiguan MK2 380tsi Carbon Fiber Cold Air Intake

$1,280.00

Lexus IS200T Cold Carbon Intake

$1,350.00

Mini F55 / F56 (Cooper / Cooper S / JCW) Carbon Fiber Cold Air Intake

$1,350.00

Subaru Forester XT SJ FA20 Carbon Fiber Cold Air Intake

$1,350.00

Audi S3 8V / A3 8V Carbon Fiber Cold Air Intake Kits

$1,480.00

Volkswagen Golf MK7 MK7.5 GTI / R Carbon fiber Cold Air Intake

$1,480.00

Skoda Superb B8 2.0Tsi Carbon fiber Cold Air Intake

$1,480.00

Audi A4 B9 2.0T Carbon Fiber Cold Air Intake

$1,500.00

BMW F30 320i / 330i B48 Carbon Fiber Cold Air Intake

$1,500.00

BMW G30 530i/540i Carbon Fiber Cold Air Intake

$1,500.00

Porsche Macan 2.0T Carbon Fiber Cold Air Intake

$1,550.00

Mercedes-Benz C118 CLA250 CLA35 / W177 A250 A35 Carbon Fiber Cold Air Intake

$1,600.00

BMW F20 M135i Carbon Fiber Cold Air Intake

$1,620.00

Honda FK2 Carbon Fiber Cold Air Intake

$1,620.00

BMW F40 M135i Carbon Fiber Cold Air Intake

$1,688.00

BMW G20 320i / 330i Carbon Fiber Cold Air Intake

$1,688.00

Volvo V60 Polestar Carbon Fiber Cold Air Intake $1,300.00

$1,880.00

Maserati Ghibli SQ4 Carbon Cold Air Intake

$2,000.00

Porsche Macan 3.0T and 3.6T Carbon Fiber Cold Air Intake

$2,000.00

Audi A7 C7 Carbon Fiber Cold Air Intake

$3,000.00
Product Highlights
For year 2010+
Carbon fiber air intake for Audi A1
EA111 engine
Direct bolt-on design without any modification
No remapping of ECU/DME needed
Gloss Finish
Product includes :
Carbon fiber air box
Carbon fiber inlet pipe
MAF sensor pipe
Armaspeed high flow air filter
Silicon connect pipe
Fixtures & Accessories